Corporate Video Production - Why is it Important for a Business Today!!
Every company or individual comes up with a video but, creating videos with a purpose is what makes a product/service sell. Videos can be effective when they communicate the right message and invoke the interest of the viewers in taking a call to action.
Tell your brand story which attracts the attention of audience and connects them emotionally with your business. For the success of a business, quality in video production services is very important.
With the rise of Digital Technology, has emerged the growth of various video production services like animation videos, music videos, short films, infographics and corporate videos.
Companies have taken their brand to a higher level with the help of corporate video production services keeping in mind the interests of their targeted audience.
Know what is a Corporate Video?
Corporate video is a high quality video produced by a company or organization telling the brand's story which is viewed by a limited audience. There is a purpose essayed towards a corporate video which can be for a product, service, training of employees, promotional videos, demos or information.
Developing a corporate video includes a few processes like brief client meet, developing a script, story boarding, communicate with client, production and delivery.
Corporate videos enhance the productivity level of a corporate ambiance. Corporate videos produced as per the tastes and interests of clients would make the viewers stay on your site for a longer time generating more traffic, shares and revenue. If the audience doesn't connect with the idea presented in your video then the sole purpose of this corporate video is nullified.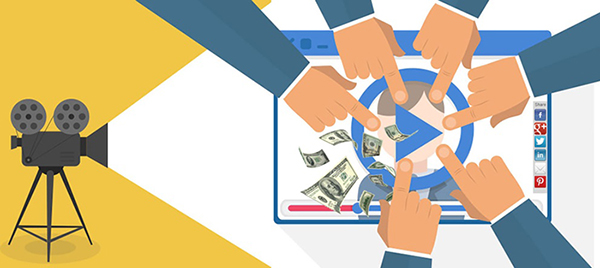 Now let us look into how effectively a corporate video can be done?
Corporate videos should be made to create brand awareness for your business. It should have a novel approach in making a story which is memorable and attractive.
Adding varied content related to your brand reaches out to a wider audience. It is found that more and more people find videos a reliable source and more likely to purchase a product or service that has a video presentation.
Depending on your budget determine the type of video to be used. Check on the various important things which go in bringing out the best quality video like the story, target audience, design, voiceover, colours, animations, etc.
Communication is the key to any video, guide your clients in explaining and communicating the entire process of creating the video.
Why is Corporate Video Production Important for a Business?
Many businesses today have realized the importance of videos to compete with the ongoing competition.
Corporate video production services help in gaining your targeted audience, helps in better communication, enhances engagement and conveys the required message.
In below video you can see the corporate video created by Immortal Dreamz, (corporate video production company in bangalore) for a popular software development company called Citrix. This video beautifully sculpts the importance of food and what can we do to stop wastage of food. Here the employees of the company are made a part of the Citrix Food Heroes. This video clearly depicts the brand and creates an awareness message too.
Importance of corporate Video:
A better understanding of the product or service: As they say an image speaks more than words, adding life to these images would enhance communication. Hence, corporate videos which speak about your brand, product or service would give an emotional bonding with the audience and videos will help in building the trust of your targeted audience.

Today viewers are presented with a lot of information which leaves them in a confused state. Corporate videos related to their searches would give them a clear understanding for the particular search.

Most of the purchases being done online today, companies have to look into ways to build engagement and the right kind of communication with their customers. A website with good content or images though boosts the traffic but, an effective video talking about your business will drive more traffic and engagement.

When a product or service is demonstrated live, people tend to get more associated with that business.

It is important to analyze your targeted audience for making and incorporating a video. Corporate videos are done for various reasons like training of employees, hiring purposes, demo on your product or service, showcasing your brand, marketing of product or service and more.

A corporate video production service company understands the needs and types of audience of their client and creates videos pertaining to that sector.

Corporate video is the best way to showcase your brand. Telling your brand story in a short time span covering all the information and, by adding a pinch of creativity works wonders in attracting visitors.

Find your website on top of search engines with a good corporate video. More than just watching (images) or hearing (audio), people like to watch and hear(video). Google ranks those websites on top which are liked and shared more by visitors. Adding a video to a website makes it more SEO friendly.

Make your website conspicuous and unique from the rest with a corporate video. An appealing corporate video will gain the trust of viewers in your business which will have a high impact on traffic and sales for your product or service.

Analyze your ads in social media and curate content accordingly. Content which is new and fresh keeps your audience engaged and attracts their attention. Be confident and creative in creating content for social media advertising.
Below you can find one of Infographic Design for Corporate Video from Immortal Dreamz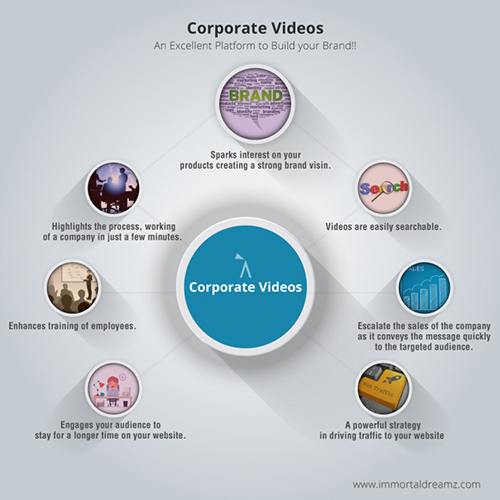 Statistics on Corporate Videos (Video Marketing for 2017)
Digital Marketing being the ongoing success strategy for any online business, corporate videos have become an integral part of it. According to the recent statistics the importance of videos is increasing at a quick pace.
According to Insivia by 2017,
Online video will account for 74% of all online traffic.
55% people watch online video everyday.
According to Wire buzz statistics
Brands that use videos gain 49% more revenue than brands which don't use videos
Videos in your homepage boost the conversion rate by 20%
75% of viewers visit a website after watching a video
Visit to get more video marketing statistics.
Corporate Video - Being a part of Success Journey for a Company!
According to statistics, videos are 52 times more likely to show up on the first page of Google than text and 82% of online marketers use videos as a marketing strategy.
People are 4x more likely to watch a product video than read about it. The success of every company has a story to tell. Videos have become an integral part in showcasing a company's success story effectively.
Here is a list of few of the companies who have added a corporate video in their website to reach out to masses.
1. Levi Strauss

This company was the first to manufacture blue jeans. This video talks about the founder Levi Strauss and his passion and creativity for inventing blue jeans. Learn more about Levistrauss Story

2. Chanel

Chanel is a French based company offering latest in fashion and fashion accessories. This video is created with motion graphics which depicts the passion of the business partner Gabrielle Bonheur Chanel. It also shows her deep connections with various people and places. Learn more about Chanel Story

3. Hubspot

This is an inbound marketing and sales platform for software products. Get a feel of the story of Hubspot in this video which shows how inbound came into existence with Hubspot. Learn more about HubSpot Story

4. HSBC

HSBC is a British multinational banking and financial company. In this video the employees are talk about their experiences in their workplace which is more fun and bonded. It also depicts their values and how efficiently they serve the community. Learn more about HSBC Story
Conclusion
Today videos are not considered as a luxury but, a necessity in the field of marketing.
Corporate videos have become an essential tool for online success of a business hence it requires lot of skill and expertise in creating a corporate video.
Approaching the right video production services will help in getting you the best value for the video.
A good corporate video must effectively communicate to your clients, build their trust, keep them engaged and give all the information relevant to the business.