Measure efficiently whether your Social Media Parameters are Working (or not)
Now that you have set up your social media marketing strategy, it's time to evaluate the impact they are generating. If you are still confused about how to go about setting up your marketing plan, then let our newsletter guide you. Check it out in our website!
For the success of any business tracking the performance of team members is the ultimatum. Similarly, getting a 360 degree feedback of your website performance will collaborate efforts with growth and revenue. Read this post to learn everything about the primary parameters to map your social media engagement.
Simplicity is the recipe of success
Tracking website traffic across every social media platform might sound daunting but it is surprisingly easy if done right. The ruler of tracking is dashboard. Hence, set up a simple dashboard that will display your social media metrics and updates under one roof. This will not only help you monitor market trends but also set new goals in accordance with that.
Targeting the right audience will get half of your job done. So help your voice reach out to the correct ears by staying up to date with market trends and changes via your dashboard.
Conversion rates - The Hobson's choice:
"Conversion is by far the biggest indicator of whether or not our efforts, as a marketing agency, are successful" says Sara Helmy, the CEO at Tribu.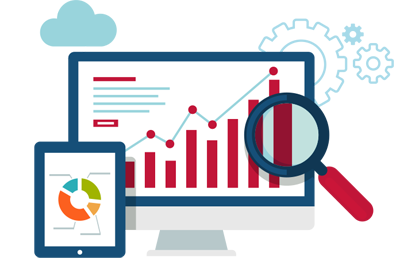 Conversions are extremely important customer behavior patterns that help establish brand rapport. Without the conversion metric it is impossible to track the movements of organic and inorganic searches, sans which it becomes difficult to hit target audience.
Know what drove your customers to buy a certain product and be a pro at impacting customer behavior!
The modesty of vanity metrics
Vanity metrics offers a quick glance of the total number of likes, shares and other related activities. Keeping an eye on these will help you get an idea about the kind of content that works best in your favor to add followers.
As we all know, customized content is the penultimate ruler of the digital market. So customize your inputs and empower yourself with vanity metrics.
Let actionable metrics take the right actions
Most dashboards are set up to the default Vanity metric because it is simple to measure. Yet it has one drawback,- it just shows the numbers. If you really want to make your data actionable then switch to Actionable metrics. Get stats that relate to specific tasks and campaigns and customize your goals accordingly. Spot the problem and know it and solve it, let actionable metrics be the guide.
Modus operandi for profit generation - website traffic
The best way to know whether your strategies are working or not is through increased or decreased revenue. Tracking website traffic gives a clear image of this revenue margin.
Track your website traffic smoothly with the help of these amazing apps:
Google Analytics : The must have app for sorting out your digital marketing business. It has all the necessary features needed for setting up and analyzing the performance factor of every page across cross media platforms.
AW Stats : The perfect tool for monitoring hotlinks. Also comes preinstalled by many web hosting companies.
Webalizer : Written in C language, it is extremely fast and portable. This is the favorite choice of those who host their own server.
MoZ : The one stop destination app that gives detailed data of your rankings in search engines along with your position against various competitors.
Conclusion
Apart from these there are a plethora of apps that will help you to understand clearly about your website strengths and social presence. So why wait? Google them!